Ireland is a country that should be in one of the top spots on any travel list. Here are my tips and tricks for solo travel: Ireland. I want you to have the most epic of trips. Travel safe my friends!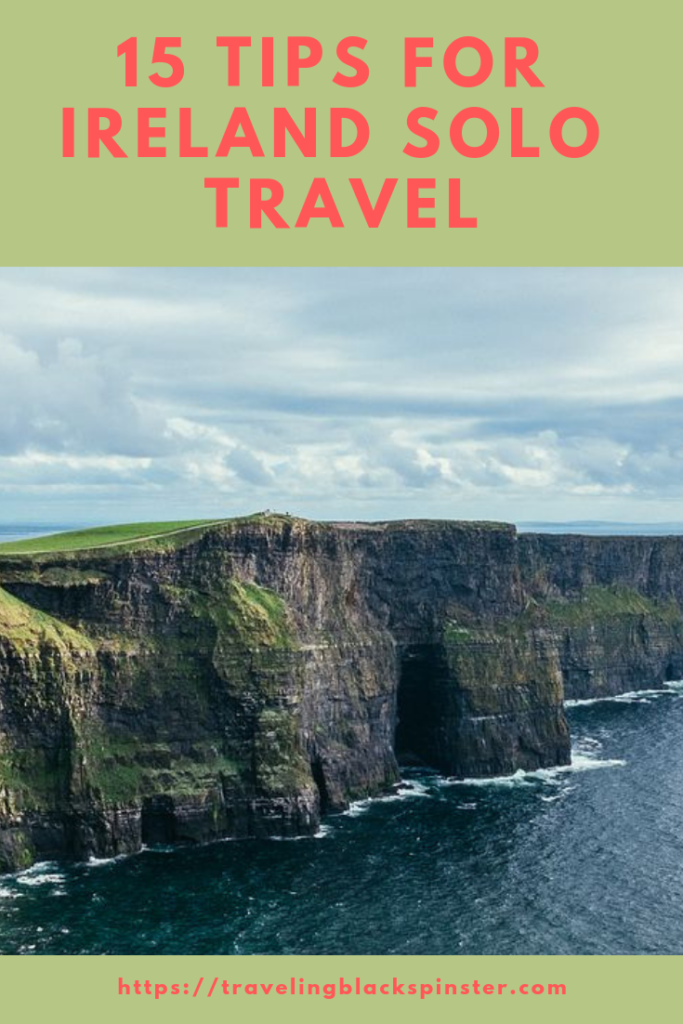 Pick where you want to go:
Dublin: Capitol which doesn't have to be sold to anyone.
Cork: There are museums and pubs galore. Specifically you can go to Blarney Castle.
Galway
Belfast
Kinsale Ireland: Sea town in the Southern part of Ireland
Kilkenny
County Wexford
Killarney. You can hit up Killarney National Park.
Northern Island. You won't need a visa to cross the boarder. Just remember that Northern Island is a part of the United Kingdom and they use the pound instead of the euro.
Budget tips:
Ireland like basically every country in the world, Ireland has an off season. If you travel between May – September then you can expect to spend more money. December is another expensive month because of the Christmas season. If you try to travel outside of that time frame. Traveling in the off season does mean that all the tours and sites may not be open but the money savings may be worth it.
Rent a car. If you can drive a stick shift then this is a huge benefit. Automatic rentals cost more money.
Purchase a Heritage card. This will help save money at the heritage sites.
Purchase a Dublin pass. Make sure that you check admission prices to make the price worth it. If you aren't planning to see a lot of the sites that the pass covers then this pass might not be worth it for you.
Check out free things to do in Dublin. You can check out (https://relocatingtoireland.com/on-a-budget-15-free-things-to-do-in-dublin/) for more info on that.
Watch out for international transaction fees. Some credit cards will charge extra for every swipe.
Make sure that you have a card with a pin and a chip. It's the standard for Ireland and without it, your card might not be accepted.
Buy as much food as you can from supermarkets. It will save you money compared to restaurants.
Get your VAT, it's 23% in Ireland.
Check the dress code for the restaurants located in the various castles and churches. You don't want to show up and find that you can't eat because you aren't appropriately dressed.
Things that you should look out for:
Renting a car is going to be one of your more convenient options if you want to see a lot of the country. With that being said there are a few things that need to be noted. Not all credit cards will cover your international car insurance, so double check. Some companies will put a large hold on your credit card so have a backup payment option or know about the hold before you leave.
Public transportation is pretty great and you have a lot of options. There are bike rental, trains, cars, and buses that can get you around the different major cities. If you want to see the more remote parts then you are going to have to find another option outside of public transportation.
Always make sure that you are preparing for bad weather. Have you ever seen the pictures of the lush green hills and cliffs? That's because there is a ridiculous amount of rain. What starts out as a sunny day can quickly turn into a downpour. My suggestion would be for you to skip out on the umbrella and to instead get a good pair of rain boots and a good rain jacket.
When you are creating your packing list there are a few things that you need. Make sure you have a water resistant jacket. You want to dress in layers so pick clothing that you can mix and match. You probably want to have a large bag that can carry your goods like a camera, water bottle, and souvenirs. I would also pack lots of socks. You never know when you will need a new pair after getting caught in the rain.
Things to do:
I'm not going to go into a lot of details but here are a few ideas for different places that you can look into:
Take a food tour and try traditional foods such as fish & chips.
Take a few tours of their famous breweries (Guinness) and distilleries (Jameson)
Plan a road trip. It's the best way to see the country. I give a few tips in this blog on things to look out for if you are planning to rent a car. You definitely want to make sure that you are comfortable driving a right sided car and you also want to be comfortable driving on very narrow roads.
Dingle Peninsula
The various Heritage sites which happen to have a pass that you can buy.
Ring of Kerry
Take a tour of some of their famous castles.
Cliffs of Moher.
Skellig Michael
Three Sister Islands
Kylemore Abbey
Mizen Head
Hit the beaches for paddle boarding, sailing, and surfing.
Get off the mainland and hit the Aran Islands.
Malin Head
Saltee Island
Kiss the Blarney Stone
Rock of Cashel
OMG! How cute is this little sheep face? Anyway, travel safe my friends!