I have learned that one of the biggest concerns that men and women of color have about international travel is safety. So I did a little research and put together a couple of countries together. Here is a list of 15 of the best countries for Black travelers.
Iceland
Iceland is a great country that has quickly been growing in popularity. The country is not known for being the cheapest, but if you can find a good deal on flights and be creative with where you choose to sleep at night, then it might become a possibility.
Iceland is known for having amazing scenery and also great outdoor activities. You should also be able to find a bunch of breweries and delicious food. I wrote a post about solo travel in Iceland and it could be helpful if you choose to do a solo trip there.
Portugal
When I think about Portugal, I think about amazing food and even more amazing scenery. While Portugal can sometimes be seen as a companion trip to Spain, it is a country that is more than able to stand on its own. Since Portugal is such a diverse country in it's own right, it is definitely one of the best countries for Black Travelers.
Like almost all European countries, there is an off season for Portugal. If you go during the parts of the year where the crowds are not as big, then you can save a lot of money. I also suggest staying in hostels to save a few extra bucks.
Thailand
Thailand is one of the most popular travel destinations for people of color. There are so many Black people that I see posting pictures of their spa days, beach trips, and visits to the World Heritage Sites. I even have a friend that spent a year studying abroad in Thailand and had nothing but wonderful things to say.
Like many Southeast Asian countries, Thailand is known for having friendly locals who are always willing to extend a hand to travelers who are visiting the country. In addition, the country is super cheap to stay in. Thailand is a place that you can find affordable lodging in almost any part of the country. If you stay out of restaurants and stick to local street food, then you will find that your dollar can stretch a long way.
Canada
Canada is known for being an excepting and progressive country. What few people know is that there are several parts of Canada that have a substantial minority population. Part of this is because of immigration. Canada has a much easier immigration policy than America and several majority Black countries have groups of people who are housed in Canada.
In particular, there is a large Caribbean Canadian population in Toronto. Toronto is an eclectic city with so many sites to offer to a traveler. The food is amazing and the art culture is strong. You may freeze to death in the winter time but it is worth the trip anyway.
Singapore
In one of my earlier posts of some of the safest places for solo female travelers to go, I put Singapore on the list. The pull for Singapore is the effort that they put into making sure that the tourist are safe. They have a well trained and available police force that is known to work well with foreigners. In addition the US has a good working relationship with the country if by chance you were to get into trouble.
Japan
Japan is on the list because of their historic love of Black culture. You can go to many of the nightclubs in Tokyo and other major cities and find hip hop music blaring from the speakers. In addition to the enjoyment of the culture you can find amazing food and welcoming locals. As a person who has traveled internationally before you can not under estimate how important it is to have a group of locals who are willing to give recommendations and directions.
Senegal
Senegal is an amazing choice for group travel and solo travel. The country is known for being diverse in the activities that it can offer. If you are a foodie then you can take advantage of the amazing food that the country has available. In addition you can also get your activity on with a bunch of outdoor activities like hiking or taking a safari. I would definitely suggest that you go to the capitol city of Dakar.
France
France is on every list for safe countries before. Paris in particular is known for being a hot spot for Black ex-pats. There are several famous black artists such as Lenny Kravitz, Josephine Baker, James Baldwin, and Beyonce who have faved about how amazing Paris is. You can find my post about solo Black female travel to Paris here.
Vietnam
Vietnam is a fascinating place to be. There is a wonderful combination of Chinese, Portuguese, and Japanese culture that makes Vietnam a very special place. What I think people truly enjoy about Vietnam is that it is a very affordable trip. If you take advantage of hostels and local street food then you can seriously save some coins. Vietnam is known for having friendly locals, affordable lodging, and super cheap street food.
Malaysia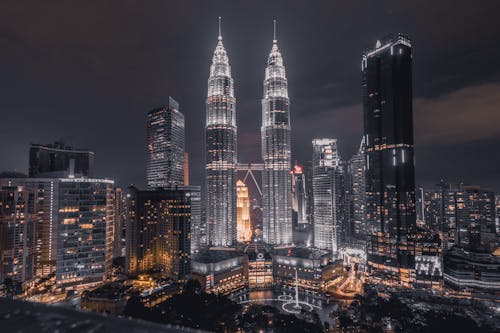 I don't know much about Malaysia, but I know that Kuala Lumpar is lit. This is a great place to travel because it is known for having a great night life that almost any budget can afford. Like the other Asian countries that are on the list, Malaysia is known for being very affordable. I would definitely suggest spending some time at the Petronas Towers so that you can get the full experience of the skyline of the city.
Belgium
How can anyone not love a country where you can stuff yourself with chocolate, beer, and waffles. Personally, this is what I think all vacations should consist of. Belgium is also located in a part of Europe where you can take lots of day trips to other European countries. Luckily, the train system in Europe is absolutely lovely and easy to use. The country is incredibly safe for couples, groups, and solo travelers.
Greece
Greece is one of the countries that I went to solo. I spent almost a week in Greece and went out to the island of Crete. Greece is absolutely amazing for solo travel. Many of the people who live there speak english and their public transportation is absolutely amazing and easy to use.
Many people said that Greece is an expensive country but I found the absolute opposite to be true. Unless you are going to sit down restaurants, I found the food to be super affordable. I also got a few things from markets and the prices were definitely right. In addition, I stayed in an Airbnb and I found that I saved a lot of money compared to traditional hotels.
Brazil
Brazil is known for having one of the highest populations of African people outside of the continent of Africa. There is so much to learn for Brazil with their combination of African and Portuguese culture. There is a deep art community here that travelers can take advantage of. The food in Brazil is also known to be amazing and life changing.
It is a country that for sure should be on the bucket list for any traveler. Several of the cities are known for being dangerous at night but during the day there shouldn't be any issues. Travelers should stay in well lit and populated areas. I would not recommend heavy drinking and walking around isolated parts of any city in Brazil.
Cuba
I have heard mixed reviews about Cuba but not because it isn't safe. Cuba is actually one of the safest countries that any traveler could possible go to. You can typically find a police offer in all the crowded areas and they often speak other languages.
Where I have heard mixed reviews is regarding the food. Some people absolutely love it and other are running for the hills to get out. Regardless of food, the Cuban culture is infectious. There is so much art and music and a traveler can take advantage of. In addition, there are lots of travelers that also go there for medical attention because of the cheaper costs.
Scotland
Scotland has some of the best people around. They are known for their amazing personalities and wonderful senses of humor. They are the kind of people who will meet you in a bar, tell you their life story, buy you a beer, and then invite you over for dinner.
This is definitely a country where Black skin is appreciated and welcome. I can't say that you are going to find a bunch of hip hop blaring but you will find welcoming locals. You will find people who don't really care about your skin tone as long as you are kind and treating them with respect. You can find my guide to Scotland here.
There you have it. 15 of the best countries for Black Travelers!