So I wrote a different blog post with road trip essentials that gives a very detailed explanation of things that I take on a road trip. I wanted to give something that was a bit shorter. Here is my road trip checklist that should have everything you need for a road trip by yourself.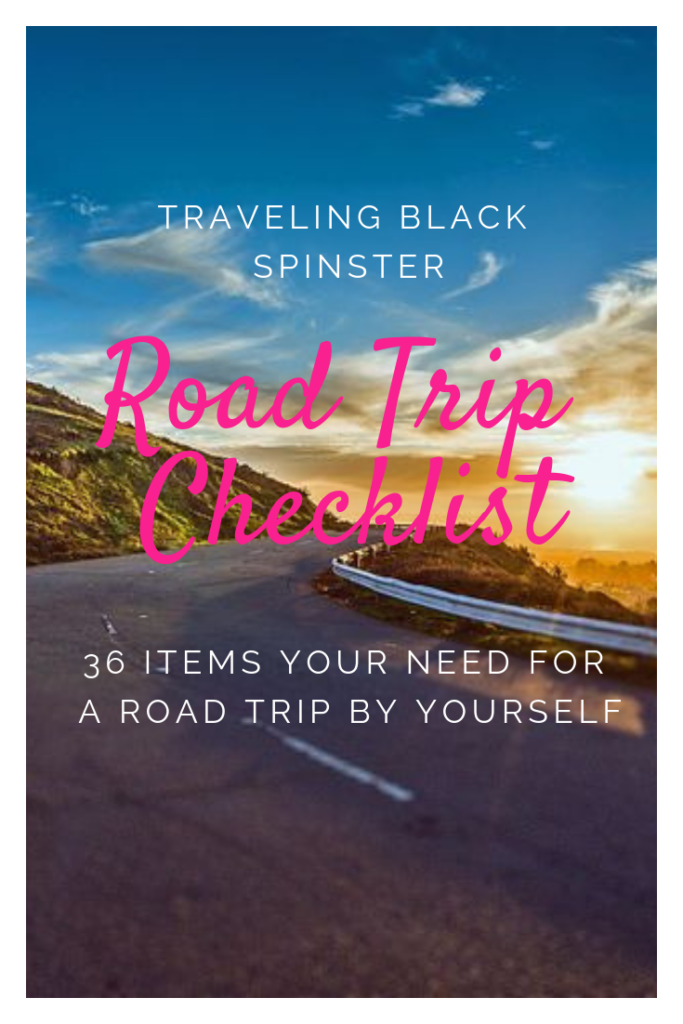 Cash Money:
There are a variety of reasons why you need to bring cash money with you. This is mostly due to that fact that you may pass through an unexpected toll. You can always set your GPS to avoid tolls but there could be lane closures, you could make a wrong turn, or a toll could be unavoidable. Either way, you need to have cash money.
A lot of places will also have a credit card or debit card minimum. I have found it to be a big help with staying on budget if I always have cash on me. There is no need for a brief stop for some ice or a water to turn into a $10 purchase because the store has a card minimum.
I have also passed through places where I didn't want to use my card. I would instead pay with cash and move along. It gave me piece of mind to know that I wasn't just swiping my card at any place.
Clorox Wipes:
Carrying some sort of cleaning wipe with you is mostly a safety precaution. There are certain places where you will just want to wipe down everything. If your bag sits on the floor or you have to use a less than clean bathroom or you are using public transportation, I always have a container with some cleaning wipes.
Germs are everywhere and it doesn't hurt to wipe down a seat or some door handles. Also, after an extended period of time in my car I like to wipe down some of my most used surfaces. When you are going in and out of different stores and public areas you don't know what you have picked up. It is best to keep the wipes on hand just in case.
Water:
You want to have water to avoid dehydration. With changing altitudes and weather patterns, you don't know when you will start to get parched. Dehydration can effect your thinking and overall ability to function. You don't want to be the person who is walking around and all of a sudden passes out.
Keep water on hand just in case you get stranded and mostly so that you can be drinking it throughout the day and keeping hydrated. I always have a bottle with me wherever I go.
Sunglasses:
They make you look cool and keep your eyes protected when you are driving down the road and the sun is blaring through your window and trying to blind you.
Paper Maps:
You can only have but so much faith in the internet. This is especially the case when you are driving through incredibly isolated areas of the country where there is no reception. Do yourself a favor and pick up a free paper map at the visitor center when you cross state lines and also download the offline maps from Google Maps.
Portable Charger
In the case of emergency you want to make sure that you have a phone that is charged. My portable charger was my best friend when I was wandering around Europe and I take one on every road trip. I will charge it each night while I am sleeping and will keep it in my backpack when I am wandering around different towns.
Gas Can, AAA discount, Flashlight/ Flares:
So these are three things that I personally use but some people may choose to pass them up. If you have really good insurance then you may not want to AAA plan. This will cover most of your car issues such as locking yourself out, needing to be towed, or needing to have someone come and change your tire. You also get huge discounts on car batteries, gas, and also discounted hotel prices.
The gas can is for the more isolated parts of the country. If you are driving up the east coast you will find a gas station about every 20-30 miles if not more common. There are parts of the country that you will drive for hours without finding gas. To cut down on the smell you can always wrap up the gas can in a garbage bag or double wrap it.
I would invest in a water resistant flashlight or really any flashlight if a water resistant one is not in your budget. You never know when you will be in the dark and need some extra light. It may just be as simple as trying to find something in your car at night. The flares are in case your car breaks down or you have to signal an emergency.
Check In Buddy:
This is probably one of the most important things that you need for a solo road trip. There needs to be at least one person in your life that knows where you are going and about when you are going to be there. While I have never had any trouble on my road trips, you never know what could possibly happen.
At all times, I have someone who is aware of my itinerary. I have someone who knows what to do if I go missing. I have someone who will care if I don't call. This way I am not in the middle of the dessert and no one knows that something has gone wrong.
Dry Bag, Copy of Important Documents
I am putting these two things together because you might end up putting these things together. I always keep a copy of my important documents so that I can use them instead of my originals. I don't want my original registration, license, passport, or social security card to go missing. I will make a copy and try to use that instead so that I can keep my original important documents in a safe place.
A dry bag is important because you never know when something might spill or the weather changes. If you like to hike or plan to spend time outside I would keep a dry bag with an extra set of clothes and my electronics so that there isn't a chance that my stuff would be wet. Dry bags can often be bought for about $20 from a site like Amazon.
A Weapon:
There are crazies out there and I like to be prepared, especially when I am out by myself. I have a bat with a flashlight at the end. This way I can first blind them and then beat them. I also travel with several knives. I don't know much about gun laws but I assume that those of you who do have a gun, you can determine whether or not you can bring it.
Operational Spare Tire:
Whether you are renting a vehicle or driving your own vehicle you need to make sure that you have an operational spare tire for your road trip by yourself. Every road trip checklist should have a spare tire checked off. Driving long distances on highways can lead to a punch of issues. You want to be as best prepared as you can.
Other Must haves:
Snacks: I always stop at Costco and stock up on non-melting snack. I don't want my blood sugar dropping and I prevents me from spending unnecessary money.
Laundry Soap: Not going to lie. I have had to wash my clothes in sinks. You also might be able to wash clothes at an Airbnb. It saves money to have your own.
Bathroom Wipes: I hate cheap toilet paper. I have also gone into several places that didn't have toilet paper. I really just want my private parts clean.
Ziplocks: There is no end to the uses for ziplock bags. Not only can you separate your snacks out but you can use the bags to keep track of your smaller trinkets.
Grocery Bags: You don't want your car to become a traveling trash can. Use the grocery bags for trash and you can also use them for dirty clothes so they don't stink up your car, bag, or other clothes.
First Aid Kit: Cuts and scrapes happen and you don't want to be caught off guard. This can prevent infections and keep you sanitary.
Sunglasses: The road can be unforgiving on your eyes. I always wear sunglasses to prevent road blindness and other issues.
Umbrella: Rain happens. I would suggest getting one that is travel size that can fit in a bag.
3t's also known as toiletries, toothpaste, toothbrush: This should go without saying but I have left my toothbrush behind in several places. I always try to no forget the 3 t's.
Reusable Water Bottle: This is a budget tip and just a practical tip. It saves money and keeps you hydrated if you are drinking water.
Optional Must Haves:
A Blanket and Pillow: Other people might not have your sense of clean. Always have your own.
Rain Jacket: Rain happens people.
Roadside Emergency Kit: You can check out my other post for more details on this.
Ice Scraper: This really depends on where you are going and during what part of the year but I would have one. Stick it in your emergency kit.
Travel Mug: I don't bring a cooler when I travel. Instead I get a travel mug that keeps my hot drinks hot and my cold drinks cold.
Change of clothing: I always pack a day pack that I can quickly grab that has my toiletries and a change of clothing.
Day pack: Instead of going through all of my bags I keep a bag that has my change of clothes and toiletries for easy grabbing. I will repack it every morning when I get to my car.
Jacket/Coat for unexpected weather: The weather can often change. I always keep a coat in case it gets super cold or windy.
UV window shade: I have traveled through many deserts. I always try to make sure I can block out as much sun when I am in a hot location.
Option but Highly Suggested:
One of the most important things that you can have on a road trip is your entertainment. I will alternate between these three to make sure that I am awake on the road and paying attention.
Book or Two
Podcasts
Music Playlist
There you have it! My very own road trip check list! I am thinking that I am going to turn this into a printable checklist so that all of my followers can have a more tangible visual. Thoughts? Comment below!