Safety is one of the main concerns, if not the number one concern for women when it comes to solo travel. I did some research and put together a list of 10 international destinations safe for Black Women. If you are looking for US destinations then you can find 12 suggestions right here. You can also find my post about Black female solo travel and travel safety for Black girls right here.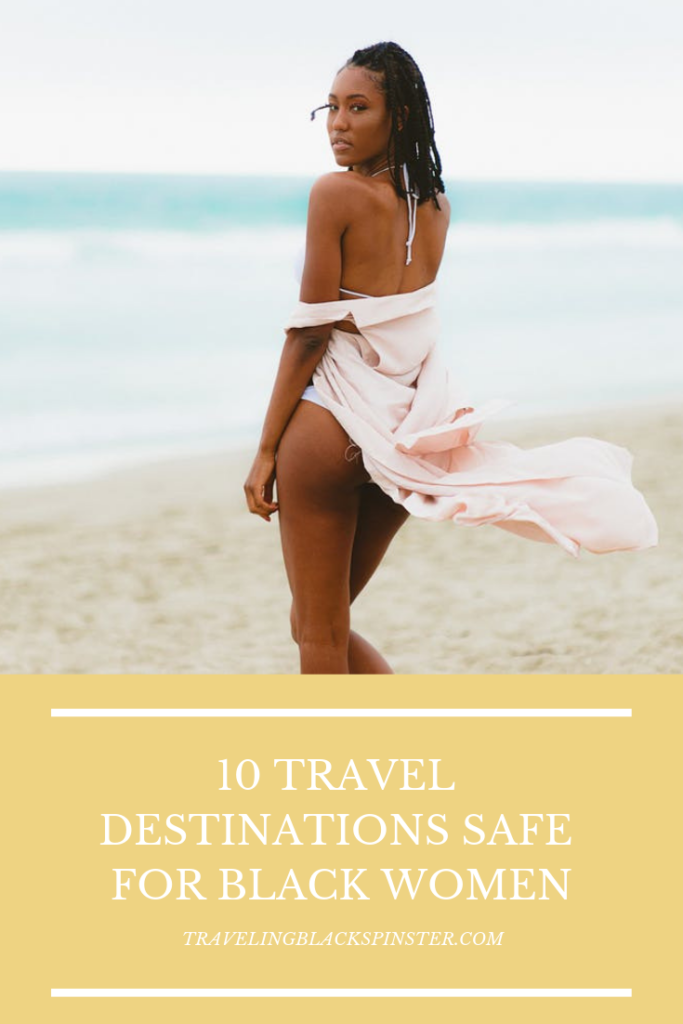 Paris, France
Paris is known for being the land of the Black American ex-pat. From Josephine Baker to James Baldwin, there is a long standing history of Black culture in Paris. You can even take a tour of Black Paris and explore the historically Black districts.
Once you have obtained your fill of Black Paris, you can explore the rest of what the city has to offer. You can take come time to see the Eiffel Tower and Versailles. I don't even have to tell you how amazing the food is. Paris should be on the list of any Black traveler.
London
London is known for being an incredibly diverse city. If you are looking for some ideas for what you can do during a solo trip you can check out my post here. London has so much to offer and has something for every type of traveler.
I would suggest that any traveler take advantage of the theater culture and the shopping that is available. London has one of the densest collection of theaters for any major city in the world. I should also mention that London also has several options for free attractions. It isn't the most budget friendly city but it is safe and there are several ways that you can cut down on costs.
Italy
I have spent five whole days in Italy and traveled through a majority of the country. Italy is one of the few countries that is deeply steeped in history while having a solid foot in the modern western world. You can literally be on your Iphone, traveling on the metro, and get off in front of the Coliseum.
There is also the well founded rumor that Italian men love Black women. If nothing else I would go for the desserts and the fact that the country is easy to get around. You can check out my post about tips for a Black woman in Italy.
Japan
Japan is a great option for Black female solo travel. This is a country that has a real love for American Black culture and hip hop is played wide and far. Now, hip hop is not for everyone and I know that I have a wide range of ages for women on this site.
If nothing else, Japan is known for being an incredibly safe country for solo female travelers of all races. The local Japanese people are known for being welcoming to visitors. A plus is that I have never heard any of my traveler friends come back and say that they experienced any type of racism.
Columbia, Medellin and Cartagena
Columbia is becoming increasingly popular for Black female solo travelers. One of the perks is that there are great deals for cheap flights between the US and Columbia. Compared to some other countries, Columbia can be incredibly affordable.
In addition to the budget perks, Medellin and Cartagena are known for being fairly safe cities. The food is known to be absolutely amazing and the scenery can rarely be beat. When you go, you can take advantage of the amazing music and art culture that Columbia is known for. Columbia should definitely be on the list for a Black female solo traveler.
Thailand
Thailand is a great place to go if you are on a budget. While the tickets from across the pond from many Western countries can be a bit pricey and more than a bit long. When you get over there however, you will find that the lodging, transportation, and food is super cheap and great for a woman on a budget.
Brazil
Did you know that Brazil has the largest African population outside the continent of Africa? Brazil truly has every shade of Black people known to man. Brazil is one country that every traveler should have on their bucket list. You can find a wonderful combination of African and Portuguese culture that is unmatched in any other part of the world.
Ghana
So this is the only African country that I have on the list. That isn't because I don't think that other African countries are worth the time to see but when it comes to traveling to Africa from America the flights alone are often more than some people can afford for a whole trip.
With that being said Ghana is one country from the motherland that you should add to your list. Ghana as a country is filled with history, good food, and welcoming people. You will also find that it is a bit more affordable than other African countries which can be very expensive.
What I love about Ghana is that it is known as being one of the safest and friendliest West African Countries. Having friendly people who are willing to help out a solo traveler is definitely a positive. Beyond all of that you can take the trip to the Cape Coast Castle where many ancestors were enslaved and sent to new countries.
Barbados
What would this list be if I didn't add a Caribbean Island where chocolate colored folks are abound. Barbados is the birthplace of rum. If that isn't a reason to go then I don't know what is.
If rum is not enough for you then there is more that Barbados has to offer. You can of course enjoy the beautiful beaches that surround the island. On top of that you can enjoy the soca music, the tasty food, and the overall kind locals.
South Africa
I have been told that there is an underlying energy to South Africa that just can't be described with words. There is so much that South Africa has to offer but we can't forget that apartheid ended in 1994. I am older than a South Africa without apartheid.
With that being said there is so much that you can get from this country. There are scenic beaches and great restaurants. In addition you can hit the scenic safaris. I would suggest that you do your research to find the city that is right for your vacations as the cities in South Africa are as diverse as the terrain.
Iceland
Black women love Iceland. I can't tell you the number of women who have been and absolutely loved the country. It is not the cheapest place that you are ever going to go but the adventures are endless. Just image the pictures that you can take on the beaches with the black sand. In addition it is a great place to get in a road trip and it is also known for it's food and friendly locals. The country is incredibly forward thinking and the scenery just can't be beat.
There you have it! My destination recommendations for Black female solo travel!