Black Girls in Rome
Rome is one of the most magnificent places that I have ever been to. I think that all Black women should have the experience of Rome. Italy itself is more diverse than people give it credit for, and I think it is a great destination for a solo female trip. One of my first posts on this blog was actually about Black women in Italy. Here are my tips, tricks, and must sees for Black girls in Rome.
What I love about Italy is that you can find Black women from all over the world. They serve as a great reference for fellow Black travelers. You will be able to find women from Africa, specifically the north of Africa and also the Caribbean. With the 3 years I have been traveling, Italy is constantly known for being one of the most visited and safest places for Black Women. You can check out some other safe destinations here.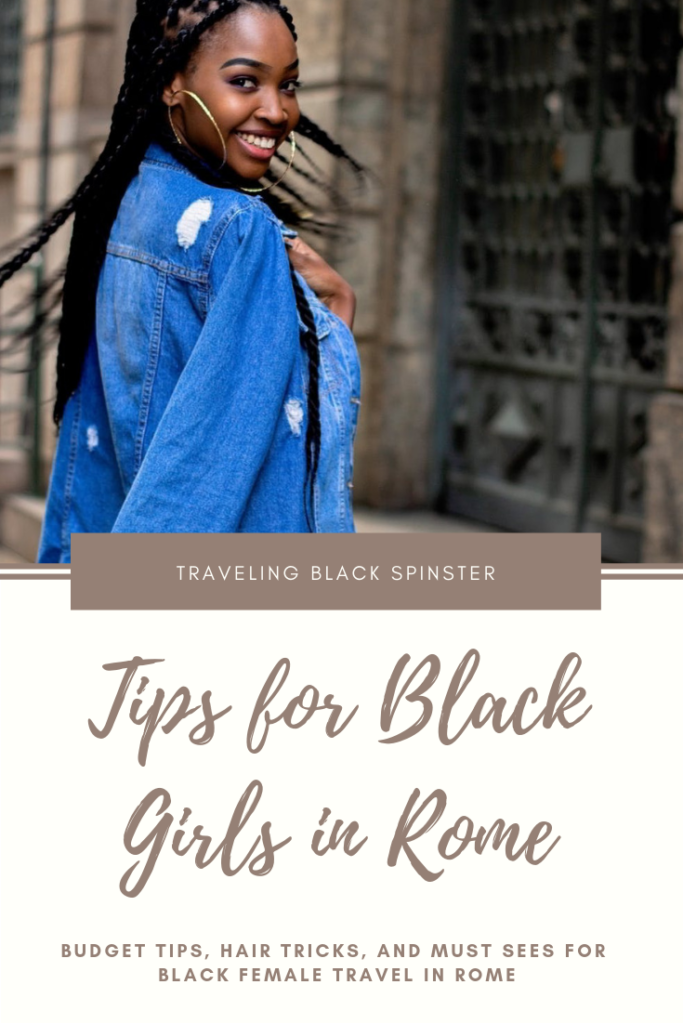 Budget Tips
There are several tips that any traveler can take advantage of when they are traveling in Europe and especially in Rome.
If you are looking to save money in general then you can travel outside of the tourist season. Most European cities see their highest prices and biggest crowds during the summer and again during the holiday season in December. I went during January and found the prices to be very reasonable.
Make sure that you look into different types of lodging outside of traditional hotels. You can save a lot of money by staying in Hostels or Airbnb. I know that some women have not thought about staying in a shared space but you can often get private rooms and sometimes ever private bathrooms.
There are several attractions that you can see for free. You can even see parts of the forum from the street if you pick the right spot. There are a lot of the famous tourist spots that you don't have to pay money for. By being strategic with your adventure budgets you can cut expenses.
Black Girl Hair Tips
I have had natural hair for almost 9 years now and know the struggle it can be to find products that work with my hair. I also travel out of a carry-on suitcase so traveling with a bunch of products has never been an option. When it comes to traveling abroad there are a bunch of different options that you can take with your hair.
You can always get a protective style before you leave. I have rocked braids several times. My only warning is that braids are not a common style that I found in Rome. You may attract attention and may also find that a lot of people will want to touch your hair.
You should be able to find someone to do your hair in a pinch. There are a lot of African and Caribbean immigration that is in Italy. I was able to find a hair braiding shop and there are a few places that you can find that sell Black products.
My last tip is that you can make your own products. I was able to find jojoba oil, natural olive oil, honey, avocados, and other items that you can use to make your own products or can just put straight into your hair. If you do some research you should be able to find several option for you when you are traveling in Rome.
What To See
St. Peter's Square:
The Vatican Museum
National Museum of Rome
Campo De' Fiori Market
The Pantheon: Free
St. Peter's Basilica: Free
Baths of Caracalla
Take a tour of the Colesseum
The Roman Forum
The Spanish Steps: Free
The Trevi Fountain: Free
The Alter of the Father: Free
What To Look For:
The train system in Italy is amazing. I would definitely look into taking a couple day trips or 2 days trips to get a break from Rome and see other parts of Italy. The trains are super affordable and easy to transverse. I wrote a post about 10 different places in Italy that all travelers should try to make it to.
I would suggest that all Black girls in Rome wear close toed shoes. There were several times that I found dog poop or puddles of dirty water. Rome is one of the cleaner cities in Italy but there is a lot of walking around and I really suggest that you have close toed shoes. You will be walking around crowded areas where people can step on your toes. You don't want to be walking around the street and get your toes ran over by a bike or step on broken glass. Just a little warning.
The desserts can be a trap. They are delicious. There are so many bakeries and gelato shops that are easy to walk into. Don't get me wrong, the desserts are incredible and the portion sizes are hefty but so are the prices. If you are really trying to watch your budget then you need to be careful with how many of these desserts that you buy.
There are several experience that you can have in Italy that could be more authentic than in other countries. I know that there are several groupon experiences for pasta making and bread making. How amazing it would be to make authentic Italian pasta. Try to be open minded and see some of the shops and experiences that locals offer.
There you have it. A good chunk of tips and tricks and over 10 different places that you just have to see in Rome. Leave a comment below and let me know if you go!